Dave Kobus grew up working on his family's dairy farm in a small town. There he developed a deep appreciation for the land and people who worked it. He knows that farming is a calling and that those who rely on agriculture face many challenges in their efforts to feed the community and provide for their families. That's one of his many motivators today as the Senior Project Manager for Horse Heaven Clean Energy Center.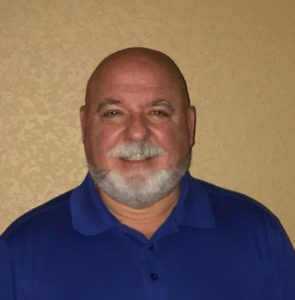 Dave left his hometown to join the Navy where he served on nuclear submarines. He transitioned his post to serve as a prototype instructor to train the next generation of Navy nuclear operators. This was the catalyst for Dave's passion supporting the professional development, education and career connections for young professionals and kids alike, which continues to this day as a team leader, project developer and grandfather.
"One of the most satisfying facets of my career has been the ability to assimilate and develop new talent," said Dave. "I am often surprised at what people can do based on a tip or a nudge, which makes it worthwhile for me to invest my time to help them build the foundational knowledge necessary for their future accomplishments."
While in the service, Dave married and started to envision a life with a family and career that would make a meaningful difference. At the same time, his interest in nuclear technology grew. Following eight years in the service, Dave began working for energy industry groups across the country and engrossed himself in college coursework that expanded his understanding of energy technology. While working, he earned his undergraduate degree in nuclear technology and then a Master's in engineering management from Washington State University Tri-Cities.
Dave settled in Richland over 35 years ago to be closer to family. Here, he began working with Energy Northwest within their nuclear portfolio. As the company started exploring renewable energy development, Dave volunteered extra time to get involved. He was inspired to move into renewable energy after a business trip to Palm Springs. As he was driving through the region with his wife, he saw the wind turbines on the distant hills and said, "One day, I'm going to be involved in wind energy." He describes that as his "beacon on the hill" moment.
Soon after, Energy Northwest decided to move forward with a wind development project. Because of his volunteerism in renewable energy with the company, Dave became the lead renewable developer for the Nine Canyon Wind Project – a single wind project built in three phases that spanned 10 years of his career.
"I'm really proud of that project and I learned a lot about how interrelated our energy system is," said Dave. "I feel passionate about what I do – it's why I got started in it and it keeps me going through the peaks and valleys of a development cycle. I can point to those wind turbines and know exactly how they benefit my community. That keeps me going for these long-term projects."
When the opportunity to lead the development of Horse Heaven Clean Energy Center (HHCEC) arose, Dave did not hesitate to join. With deep knowledge of the existing energy infrastructure in the region, combined with his passion for contributing positively to his community, HHCEC was a perfect fit.
In his role with HHCEC, Dave builds teams of consultants who can provide top level expertise for each aspect of the project. He evaluates what consultants are preparing, does his research and asks any questions needed to fill in the full picture of the project. He notes that very few people in the energy industry have expertise in all aspects of the industry, so it is vitally important to build teams of experts who can go deep on specific subjects. While rare to find someone who knows it all, Dave prepares himself with up-to-date information on the status of everything related to the HHCEC development.
"As the region grows, we will need more energy supply. And it takes a diverse mix of technology to be able to create that reliable and robust supply," said Dave. "It took me a long time to grasp how energy sources and supply are interrelated, so I understand where people are coming from when they have questions. It's really important to me that I am able to explain this project to anyone, and to demonstrate how exciting this project really is."
For Dave, this project is a labor of love and a promise to his community, including his grandchildren, that the Tri-Cities can be an energy hub. He connects it to the Tri-Cities economic development plans which aim to create long-lasting skilled professional jobs for the lifetime of a project. Dave envisions a self-sustaining energy tech industry for the region, which utilizes the amazing renewable resources available locally to keep a strong employment pipeline available for future generations. With more opportunities to enter in these high-skill fields, more young people from the region can build their future career plans locally.
"Those wind turbines can spark curiosity for kids – just like they did for me in Palm Springs. My grandsons see me working on this project, and they see the turbines. I want them to see how they can fashion a career and a life that allows them to explore their passions while leaving a legacy too."
Dave also views this project as a way of enhancing the quality of life around the region. From being self-sufficient suppliers of their own energy to the economic investments that go into local efforts, Dave prefers having wind and solar developments locally, so the benefits come directly into his own community. Based on his lifetime of experience, he believes that If you can see them, you are sharing in their benefits.
"I think its inspirational as it's a sustainable way to generate the power we all need while providing resources that benefit everyone in various ways to ensure a thriving community. It's a graceful solution to address several of our community's pressing needs."
This includes the checks he plays a part in delivering to local farmers who are partnered with the project to lease portions of their land. Connecting with his roots, Dave understands how the HHCEC can lift farmers with additional revenues.
"I'm working for these landowners and the people who have spent their entire lives in debt to get the equipment they need earn a living in agriculture," said Dave. "To have this additional resource means they could send their kids to college, buy the equipment they need to invest back into their farming operations, and spend their money in town which creates an economic multiplier – improving the quality of life for everyone."
"At the end of the day I have to look in the mirror and feel good about what I'm doing and that it's for the overall good," he continued. "With this project, I am serving the community in what I do."