From his early days working in fossil fuels to positions in academia, Bob Carson has spent a lifetime learning and sharing knowledge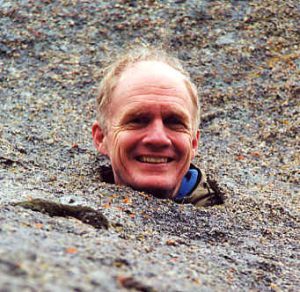 about energy and the Earth. As a Professor of Geology and Environmental Studies at Whitman College, Bob focused his teaching and research on geologic history and landform evolution, climate change, water resources, and environmental issues.
His expertise on the region's land and water informs his support for comprehensive clean energy development – especially where it makes economic and environmental sense. That's why Bob actively supports projects like Horse Heaven Clean Energy Center.
"Global climate change and sea level rise is the worst crisis the world has ever faced," Bob says – it's his opening line he often uses for lectures and writings. "We must wean ourselves from fossil fuels. We don't have to sacrifice our lifestyle to conserve more."
He was not always focused on environmental issues. While finishing college at Cornell, Bob was approached by Texaco with an offer too exciting not to accept. Exploring petroleum in New Orleans with good pay, oil rigs and adventure, social mobility – all of this appealed to a 21-year-old college graduate.
"We didn't really know the danger of fossil fuels in the 60s," said Bob about his early years. "I was not an environmentalist until the 70s, after graduate school."
What changed?
"It didn't happen overnight. It was many things over time," said Bob. "I was deeply influenced by my fellow professors, my wife, and my students. One of the best things a student can do is tell a professor 'you helped me change the way I see the world.' And that happened to me in teaching," said Bob.
For Bob, the move to support renewable energy was a natural progression of learning from experience. Through community building, conversations, exploration, and curiosity, Bob's world view changed. In time, he met his wife and built relationships with colleagues from the universities at which he was teaching. Here he was able to learn from his peers, students and expanding social circles to understand different perspectives.
Bob is also an avid mountaineer and whitewater boater. He studied abroad, visiting rainforests and glaciers around the world. "You can't help being in the outdoors and not have concern for nature," Bob added.
Eventually, Bob was invited to take the helm of the nascent Environmental Studies program at Whitman. It started as a half-time position, with no other faculty. It is now one of the larger programs the college offers.
Bob's first foray into clean energy was to install solar panels on his cabin located in an old-growth forest on Hood Canal in western Washington. He has since helped install home-based solar for family and participated in the Community Solar Project in Walla Walla. They have sited panels at the Walla Walla airport, Walla Walla Community College, the local wastewater treatment facility, and a municipal building in Dayton.
Whitman College also sites solar and wind energy on its campus and its owned properties – including hosting approximately 70 wind turbines on college-owned farmland as part of the Stateline Wind Farm which, at the time of its construction, was the largest wind facility in the world. Bob notes that one full sized wind turbine could fully power the college.
He takes students out to local farms, where they learn about soils, agriculture, and energy. The farmers love the wind turbines. Bob says nearly every farmer he meets would be happy to have a turbine on their property as it takes up a low footprint, does not impact their farming practices, and provides them with supplemental income.
"Partnering with farms makes a lot of sense," said Bob. "Agriculture may represent half of all global warming emissions by 2050. We can't stop farming, so we need to offset that impact and store that carbon somehow."
Bob is supportive of comprehensive clean energy, like the Horse Heaven Clean Energy Center. In eastern Washington, wind and solar, like the installations planned by Horse Heaven Clean Energy Center, can be maximized for the state. "The solar power per unit in eastern Washington is twice that of western Washington," Bob noted. "And our wind is more energy producing than in many other regions."
For Bob, comprehensive energy would also include off-shore wind in Washington – where all resources can be connected to a grid that could produce all the electricity we'd need, with very little disruption. He sees energy development as critical to combating climate change and part of a shared resource economy.